The city of Burlington has been working on its decades-old (and neglected) mask ordinance, updating it and trying to make it constitutional. While recent proposed changes are an improvement, they're not enough. The redraft of the ordinance, soon to come before the city council for adoption, is unconstitutionally vague. In practical terms, the ordinance would likely continue to be highly susceptible to selective enforcement by police. It's also duplicative of other criminal statutes, such as laws on disorderly conduct and simple assault. Bottom line: It's not ready for prime time.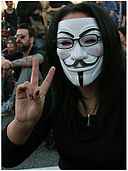 Photo by Jonathan Mauer, Wikimedia Commons
Since learning about a group of mask-wearing artists who were forced to leave the 2015 Burlington Mardi Gras celebration, the ACLU of Vermont has been advocating for repeal of the city's mask ordinance. The ordinance bans the wearing of a facial covering for any purpose within city limits.

Based upon our investigation and public records, the ordinance is selectively enforced against disfavored individuals and expression. Law enforcement has questioned, detained, cited or forced mask-wearers to remove their masks without reasonable suspicion of an actual crime.

In November, two protesters wearing the widely-used Guy Fawkes mask were questioned by police for no other reason than that they were wearing a mask in violation of the ban. We've received complaints from would-be protesters who say they're afraid of detention, citation, or arrest if they wear a mask in Burlington. All the while, other mask-wearers at a subsequent protest received no attention from the police.

To advocate for repeal or reform and prevent litigation, the ACLU of Vermont has written detailed letters with legal analysis to the city, engaged in discussions with the city attorney and mayor's office, and testified at the city council's Ordinance Committee.

In late February, the city proposed new revisions to the mask ordinance, and the revisions were approved by the Ordinance Committee.[pullquote]To prevent unnecessary litigation, we will continue to advocate that the city revise or repeal its ordinance to protect free expression and comport with the U.S. and Vermont constitutions[/pullquote]The proposed changes would ban the wearing of a mask with the intent to violate someone's rights, intimidate or harass, or avoid identification when planning a crime.

The revised ordinance goes before the full city council on Monday, March 7. The proposed ordinance can be found here. Burlington's mayor, Miro Weinberger, also publicly announced that the mask ordinance would not be enforced during Mardi Gras weekend.

To question, detain, or punish an individual for an illegal act, police must have reasonable suspicion based on specific and articulable facts that the individual has been, is, or is about to be engaged in illegal activity.

But, if a person is wearing a mask and not doing anything else suspicious or illegal, how can law enforcement suspect that the person intends to violate another's rights, harass or intimidate, or is planning to commit a crime without detaining them for questioning?

How can the wearing of a mask, by itself, violate another person's rights? How can a prospective mask-wearer know if wearing their mask alone would be viewed as violating another person's rights or would cause another to fear for their safety?

The answers to these questions are self-evident. There is no way to enforce these parts of the ordinance without the police being able to question and detain any mask-wearer they want. The proposed ordinance, specifically parts (a), (b), and (c), encourage the police to detain and question mask-wearers for the simple act of wearing masks.

And, there is no way for a prospective mask-wearer to know whether their mask will be viewed as violating another's rights or cause another to be intimidated or fearful.

The breadth and vagueness of the proposed ordinance will likely result in selective enforcement and the chilling of free expression, particularly for disfavored individuals and viewpoints. That violates the 1st, 4th, and 14th amendments to the Constitution.

We provided our position and a potential ordinance revision to the city and Ordinance Committee. Specifically, we advocated for the adoption of Honolulu's mask ordinance that prohibits the wearing of masks or disguises "for the purpose of:
Evading or escaping discovery, recognition, or identification in the commission of any criminal offense; or
Concealment, flight, or escape, when the person has been charged with, arrested for, or convicted of, any criminal offense." Honolulu City Ordinances Sec. 40-22.2.
Unfortunately, the city and Ordinance Committee declined our proposals.

To prevent unnecessary litigation, we will continue to advocate that the city revise or repeal its ordinance to protect free expression and comport with the U.S. and Vermont constitutions. But, without changes to the current proposal or a full repeal of the mask ordinance, the City leaves itself at risk for litigation. If law enforcement unlawfully detains a person based upon their expressive wearing of a mask, or a person feels too scared to wear a mask in Burlington to express themselves under the current or proposed ordinance, the ACLU of Vermont would be interested in considering their complaint for litigation.
--Jay Diaz, Staff Attorney / Public Advocate